Meet the Hockey Business Forum's Official Main Partners and Vendors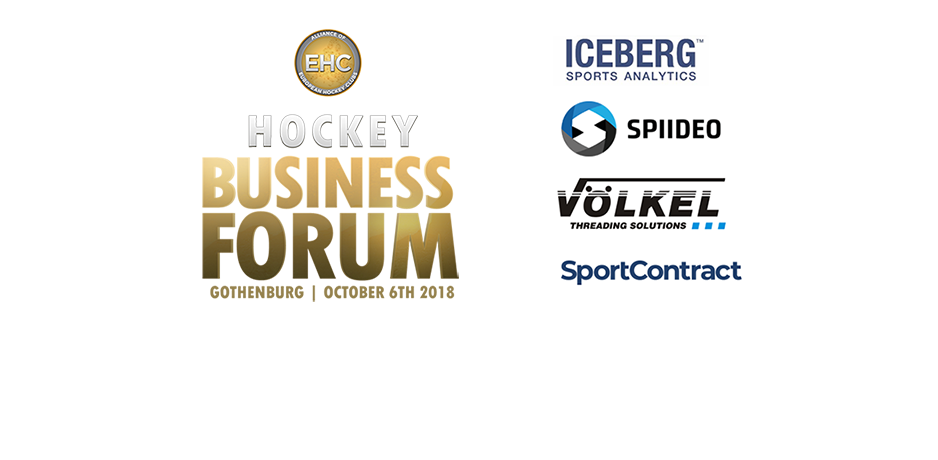 The E.H.C. Hockey Business Forum wouldn't be possible without the support of our Official Main Partners ICEBERG, Spiideo, SportContract and VÖLKEL, as well as Official Vendors PROSHARP, Winmill and ColosseoEAS.
Official Main Partner, E.H.C. Hockey Business Forum – ICEBERG

ICEBERG Sports Analytics is a Canadian IT company that specializes in hockey and utilizes advanced technology of computer vision, artificial intelligence and machine learning algorithms to allow leagues and teams to get automatic, accurate data and matching video clips from a game.
ICEBERG Sports Analytics uses these technologies to capture player and puck locations on the ice and transform them into the deepest, most accurate and most insightful datasets ever captured in the game.
These datasets are transformed into meaningful analytics and hosted on a user-friendly portal site that can be accessed by all stakeholders – managers, scouts, coaches and players themselves. The information is broken down in a way that can increase efficiency across the board whether it be in managing a roster, optimizing salaries, locating talent, strategizing or player development.
ICEBERG was founded in 2015, launched Version 1.0 of the product in September 2016 and now retains over 70 clients in 13 countries, from youth levels all the way to the NHL.
For more info visit: https://www.iceberg.hockey/
Official Main Partner, E.H.C. Hockey Business Forum – Spiideo

Spiiedo is about sports video recording and analysis made easy, for coaches, analysts and players.
Spiideo makes advanced sports video recording and analysis easy, useful and accessible for hockey coaches, analysts and players. With Spiideo's powerful video solutions and cameras installed in the arena, video recording is always available for practices and games.
No need anymore for manual camera handling, no cameraman, no hassle with cables and files. Spiideo's Virtual Panorama technology captures an overview of the entire rink, as well as details of individual players, in the same experience for live feedback and performance analysis. While used by pro teams and academies in some of the world's largest and most well-known clubs, the system is cost-efficient and also suitable for small clubs with limited resources. In addition, the system allows you to, in a very easy way, enable broadcasting of your matches.
The Spiideo system can be integrated live, straight into programs like Dartfish, Iceberg, SportsCode or other tagging programs. Spiideo was founded in 2012 in Lund, Sweden and has since moved its offices to nearby Malmö.
For more info visit: https://www.spiideo.com/
Official Main Partner, E.H.C. Hockey Business Forum – SportContract

SportContract is an innovative, secure system for all stakeholders in professional hockey; leagues, federations, clubs, players, scouts, unions and agents.
With advanced video, enterprise scouting solutions and analytic tools, SportContract reforms the world of sport. The enhanced video system gives you access to an unlimited global video database and allows you to target any team, player or even specific plays.
Furthermore, the inventive SportContract transfer and network service enables general managers, sport directors, coaches and players with easy and secure communication and allows teams to issue trade or signing requests. Despite the wide range of precise functions, SportContract is easy and comfortable to handle.
For good reasons, SportContract is a leading partner and service provider for many major teams and leagues in European ice hockey.
SportContract's objective is to support the hockey community by making processes easier, breaking up obsolete structures and bringing in new ideas and a different way of thinking.
Among SportContract's club partners are several members of the E.H.C. Alliance: SC Bern, ZSC Lions Zürich, SCL Tigers Langnau, Eisbären Berlin, Adler Mannheim, Fischtown Pinguins Bremerhaven, Lukko Rauma, Dornbirner EC and also the KHL's Jokerit Helsinki.
For more info visit: https://sportcontract.net
Official Main Partner, E.H.C. Hockey Business Forum – VÖLKEL

Based in Remscheid, Germany (45km east of Düsseldorf), VÖLKEL carries 100 years of experience in the field of threading solutions and has developed into a worldwide leading manufacturer of standard thread cutting tools.
Through Mr. Peter Völkel, the successful entrepreneurship is the main sponsor of German DEL league's Düsseldorfer EG, one of German hockey's strongest club brands and consequently one of the most popular teams. Mr. Völkel is also one of the most committed supporters of the E.H.C. Alliance and one of four Official Partners of the E.H.C. Hockey Business Forum.
While staying true to its four pillars of success – Specialization, Quality, Pricing and Service – VÖLKEL is a highly successful player in the business of thread cutting tools, with over 9000 different products being available from stock. VÖLKEL is currently exporting goods into some 70 countries in Europe, Asia, Australasia, Africa and all of the Americas.
The company's export quota is around 70 percent. Since 1996, thread cutting tools conforming to Japanese standards are also available from the Remscheid plant.
The concept of international production fully under VÖLKEL control has been implemented since 1991. VÖLKEL is one of many entrepreneurial success stories which, apart from their core business and responsibilities, also support ice hockey in their region.
For more info, visit https://www.voelkel.com/
Official Vendor, E.H.C. Hockey Business Forum – PROSHARP

Prosharp® is making skate sharpening easier, faster, more consistent and better every time. We want every skater to get the best possible performance from their skates, regardless of whether they are playing in a beer league or in the Stanley Cup playoffs.
Prosharp® delivered the first machine in 1986 and is still serving skaters 32 years later. This achievement has only been possible through the company's dedication to quality components, service, and a genuine interest in research and development.
Prosharp Profiling® makes it possible to adjust and tune the blades' profile to maximize every player's and skater's ability. We have developed over 60 different profiles where the main focus is on ice hockey.
Prosharp® has virtually every professional club in Sweden as customers and we have sold machines to half of the NHL clubs. Both Stanley Cup finalists, Las Vegas and Washington, use Prosharp machines. We are the official partner of the reigning IIHF World Champion, Team Sweden.
For more info, visit https://www.prosharp.com/
Official Vendor, E.H.C. Hockey Business Forum – Winmill

Winmill builds robotic training tools for player skill development, a tool that is capable of passing and shooting pucks to players. It uses computer vision to track and monitor the training environment and provide passes and shots when and where necessary.
After training, it takes the information from training to provide practical assessments of players' performances with video and statistics and what are the necessary improvements going forward.
Check out our demo: winmill.co/demo
The device allows users to develop skills for shooting, passing and goaltending. Our exercise handbook provides pre-defined setups for specific drills or general workouts. The device is suitable for all age and skill level players ranging from young kids to professional players.
The Winmill company is based in Riga, Latvia and was founded in 2016. Our current clients are multiple teams from the Kontinental Hockey League (KHL), as well as training centres and academies in Finland and Switzerland.
For more info visit: http://www.winmill.co/
Official Vendor, E.H.C. Hockey Business Forum – ColosseoEAS

ColosseoEAS, Inc. is the world's leading technology provider for sports venues that provides hockey arenas and their visitors with an unrivalled, engaging game-day experience, by equipping them with its cutting-edge technologies in the form of the most complete turnkey solution available on the market today.
This industry-leading solution is already installed at multiple arenas in the NHL, KHL and other major European leagues, the most prestigious ones include Capital One Arena (Washington D.C.), VTB Ice Palace (Moscow), BB&T Center (Miami), Erste Bank Arena (Vienna), Patinoire des Vernets (Genève), Traktor Ice Arena (Chelyabinsk), Espace Malley Arena (Lausanne) and Barys Arena (Astana).
Colosseo technology has been in use at IIHF World Championships since 2011, at the 2014 Winter Olympic Games in Sochi or the 2017 Winter Universiade in Almaty. This includes the highly advanced Colosseo Video Goal Judge solution which helps referees solve controversial moments at ice-level and in the goalmouth
The Colosseo product portfolio includes custom designed LED Center-Hung Scoreboards, LED Displays & Dashers, Ribbons & Perimeters, Integrated Game Presentation System with Timekeeping & Statistics, Interactive IPTV, Player Tracking, Ticketing and Access Control with Biometric Facial Recognition.
With more than 80 installations in North America, Latin America, Europe, Asia and Africa in the past eight years, Colosseo is providing control room operators with cutting-edge technology to take multimedia management, interactivity, entertainment and infotainment to a significantly higher level.
For more info, visit http://www.colosseoeas.com/en/