Mannheim signs Desjardins, CHL Playoff Draw on Friday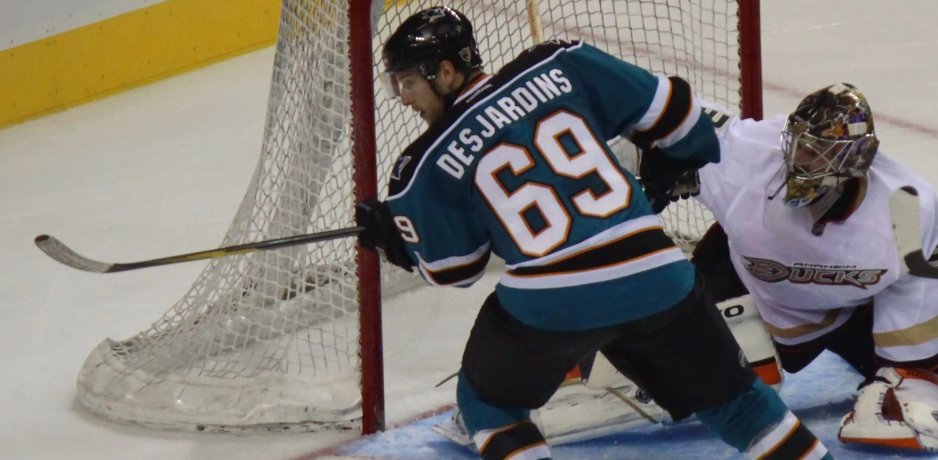 Ahead of Friday's Champions Hockey League Playoff Draw, Adler Mannheim made news by signing established NHL forward Andrew Desjardins.
Desjardins, 31, has played 461 NHL and playoff games combined for the San Jose Sharks and Chicago Blackhawks. In those games, he scored 26 goals and added 46 assists for 72 total points. He won a Stanley Cup with Chicago in 2015.
Recently, he attended the training camp of the New York Rangers, but after they cut him just before the start of the NHL season, Die Adler were quick to swoop in and add him to their roster.
"We are glad that Andrew has decided on us despite numerous other offers," said Mannheim general manager Teal Fowler. "He has a lot of experience and knows from his time in the NHL that a player must work hard every day. Andrew is a two-way player who is physically strong and gives us extra stability."
Mannheim hopes the addition of Desjardins helps in the team's quest to win the title of the DEL, where it currently sits fourth in the standings. Die Adler are just coming off the completion of an impressive showing in the Champions Hockey League group stage, where they won five of six games – including twice over reigning Swedish champion HV71 Jönköping – to win their group.
Champions Hockey League Playoff Draw on Friday
Mannheim is one of 15 EHC Alliance members from seven different countries to reach the CHL's Round of 16. For the first time, a team representing Great Britain will take part in the knockout stage after the Nottingham Panthers shockingly won their group.
"Before it started we just wanted to compete in every game and get a win here or there," Panthers head coach Corey Neilson said on the club's website after Tuesday's loss to TPS Turku, which came after they'd already secured top spot in the group. "Obviously, to finish on top of our group is something we didn't expect but we achieved what we deserved – we worked hard, played good hockey and we got the results, which is a good thing, and now we're looking forward to seeing what we get."
Nottingham, Mannheim and the other 14 remaining teams will find out who they play next in the CHL's Playoff Draw, which takes place on Friday afternoon starting at 12:30 CET.
Capitals continue to dominate
One team that isn't among the CHL's last 16 teams is the Vienna Capitals. The Caps lost a tight game in Zug on Tuesday to end their chances, but losing isn't something they've been doing a lot of lately. In fact, in EBEL play, they haven't lost at all this season. The team is continuing right where it left off last season, completely dominating all opponents. The Capitals have won all nine league games they've played so far in regulation time, outscoring their opponents 36-11.
The next teams that will try to put a dent in Vienna's perfect record will be HC TWK Innsbruck on Saturday, followed by EC-KAC on Sunday.
Photo: NewJack984