Mannheim ends German dynasty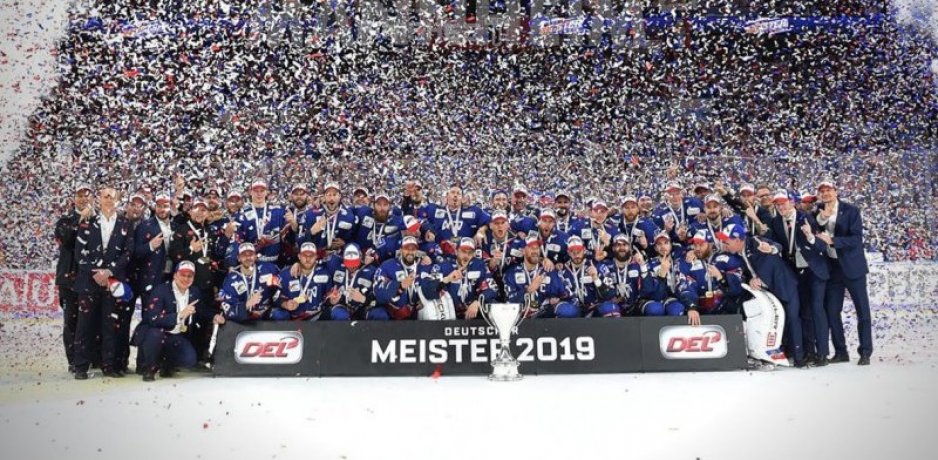 Adler Mannheim has returned to the top of the German DEL by dethroning three-time reigning champion Red Bull München with a convincing five-game victory in the finals, and a 5-4 overtime victory in the last game. It is Mannheim's first title since 2015 and eighth overall.
The title is the culmination of a dream season in which Mannheim dominated the DEL regular season, losing in regulation time only eight times in 52 games and finishing first place overall with 107 points. The team's 194 goals scored and 117 goals against were both league-best totals.
Mannheim then went 12-2 in the playoffs, beating the Thomas Sabo Ice Tigers Nürnberg in five games and Kölner Haie in four straight to reach the finals.
In the finals, München showed they weren't willing to relinquish their title so easily, winning the first game in Mannheim 2-1. However, Die Adler then reeled off four straight wins. Goaltender Dennis Endras earned two shutouts in the semi-finals and two more in the finals, and Italian-American defenceman Thomas Larkin scored the overtime winner on the power play in the last game.
The season marked an excellent debut season in Mannheim for head coach Pavel Gross, who had coached the previous 10 seasons for Grizzlys Wolfsburg. Although it's his first championship as a coach Gross played for Die Adler when they won three straight titles in the late '90s.
"It's the dream of every coach who does this job to win something every now and then," Gross told the live television audience on the ice after the final game. "I got the chance to come here to this really good organization and top team and I took it. I'm thankful for the opportunity and believe the team earned it."
As dominant as the team was all season, it didn't really have any stand-out stars. The team's top scorer, Chad Kolarik, was 12th in the league with 48 points, and nine other players had more than 30 points. In the playoffs, three players – Andrew Desjardins, Ben Smith and Mark Katic – all had 14 points, and four others had at least 11. Endras and Chet Pickard split the goaltending duties relatively evenly during the regular season before Endras took the reins in the playoffs.
Spurred on by the team's on-ice success, Adler Mannheim is regularly among European hockey's attendance leaders. Playing in SAP Arena, Mannheim was fifth in attendance continent-wide this season, averaging 11,422 spectators per game. They have ranked no worse than seventh in any of the past 14 seasons.
Photo: adler-mannheim.de