München, Söderström, Pettersson & Välilä win at Euro Hockey Awards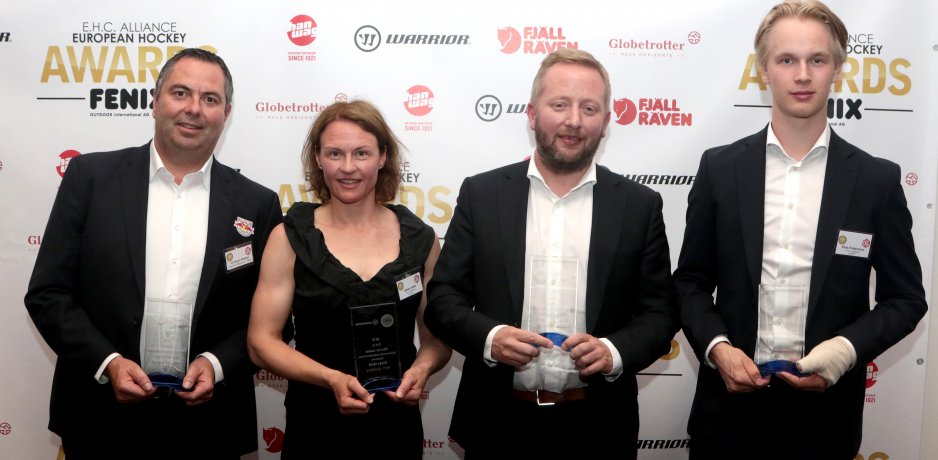 ​PRAGUE – The second annual European Hockey Awards took place on Tuesday night, with four awards being presented: Red Bull München as Club of the Year, Fredrik Söderström as Coach of the Year, Elias Pettersson as Best Young Player, and Riikka Välilä winning the Warrior Award.
Last year, Swedish club Frölunda Gothenburg, the reigning two-time European club champions, cleaned up at the inaugural European Hockey Awards ceremony, taking all three awards. This year, the four awards were spread out across four teams in four different countries.
As Hanwag Club of the Year, Red Bull München beat out JYP Jyväskylä, the first non-Swedish team to win the Champions Hockey League, Kärpät Oulu, who rebounded from an off-year to reclaim the Finnish Liiga title, Storhamar Hamar, who ended the Stavanger Oilers' five-year reign atop the Norwegian GET-Ligan, and the Växjö Lakers, who won the Swedish Hockey League and lost the CHL Final. The Red Bulls won their third straight DEL title and formed the nucleus of Germany's surprising silver-medal team at the Winter Olympics.
"It means a lot for us because there were a lot of great choices, but we're very glad that it went to us," said club managing director Christian Winkler. With eight players on the German Olympic team, he said: "I think this was a dream year for all of German hockey. We had some key players on the team and we had two coaches on the coaching staff, so we feel like we all won the silver medal together."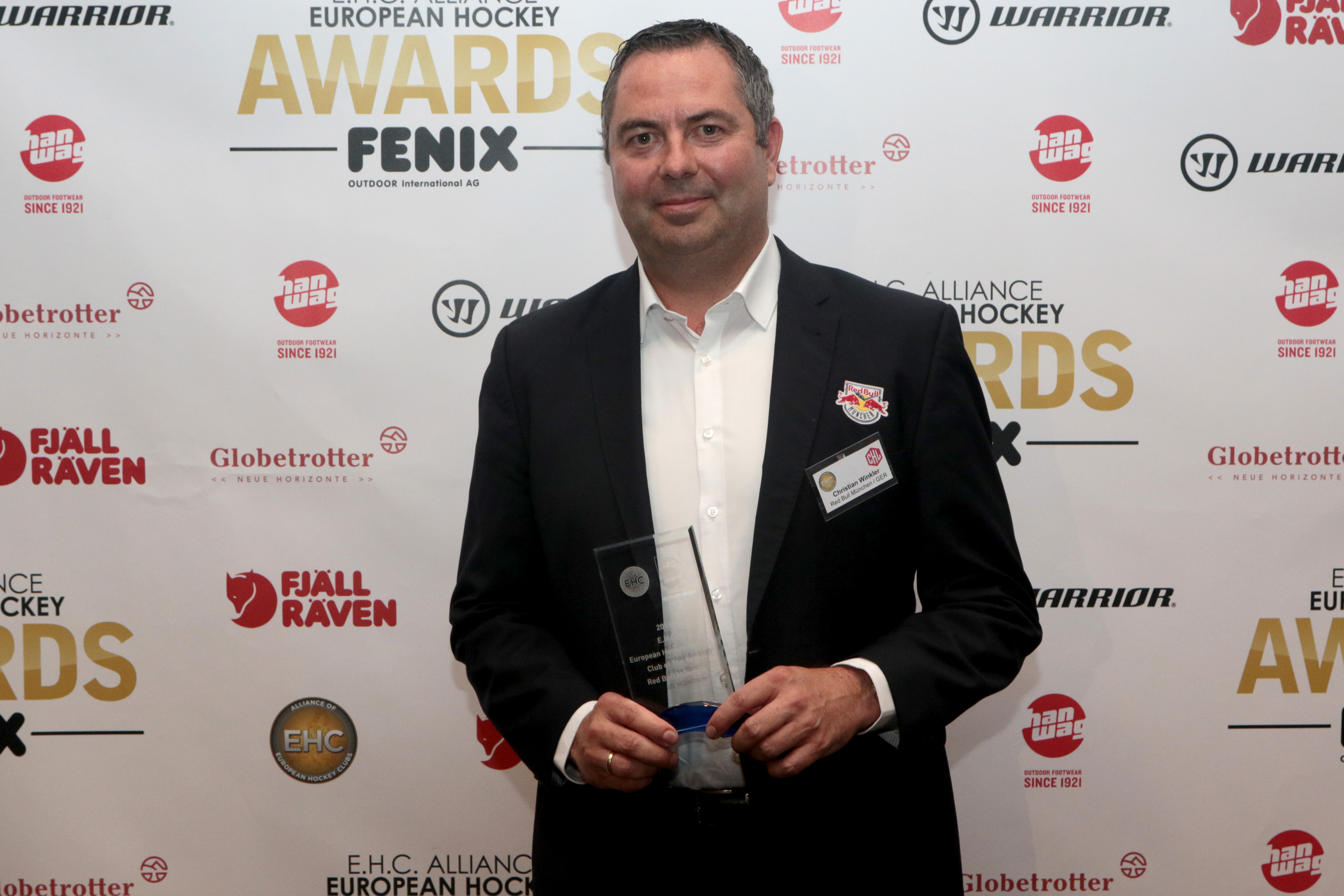 Storhamar Hamar came up short in the Club of the Year vote, but head coach Fredrik Söderström won the Globetrotter Coach of the Year award, beating some stiff competition. Sam Hallam guided Växjö to the SHL title and the CHL Final, Andrew Lord was the player-coach of the Cardiff Devils, who captured their second straight British EIHL title, Kai Suikkanen took over last-place HC Bolzano mid-season and led them all the way to the EBEL title, and Libor Zábranský helped Kometa Brno repeat as Czech champs as the team's coach, GM and part-owner.
"I didn't expect this at all," said Söderström. "I think we had a great year in Storhamar, but Europe is a big continent and there is a lot of great hockey with good teams and good players, so to get this I'm overwhelmed, humble, and very proud."
Looking ahead to his team's berth in the 2018-19 Champions Hockey League, Söderström added: "That's a huge challenge for us and for Norwegian hockey to prove itself in Europe challenge those teams in other countries."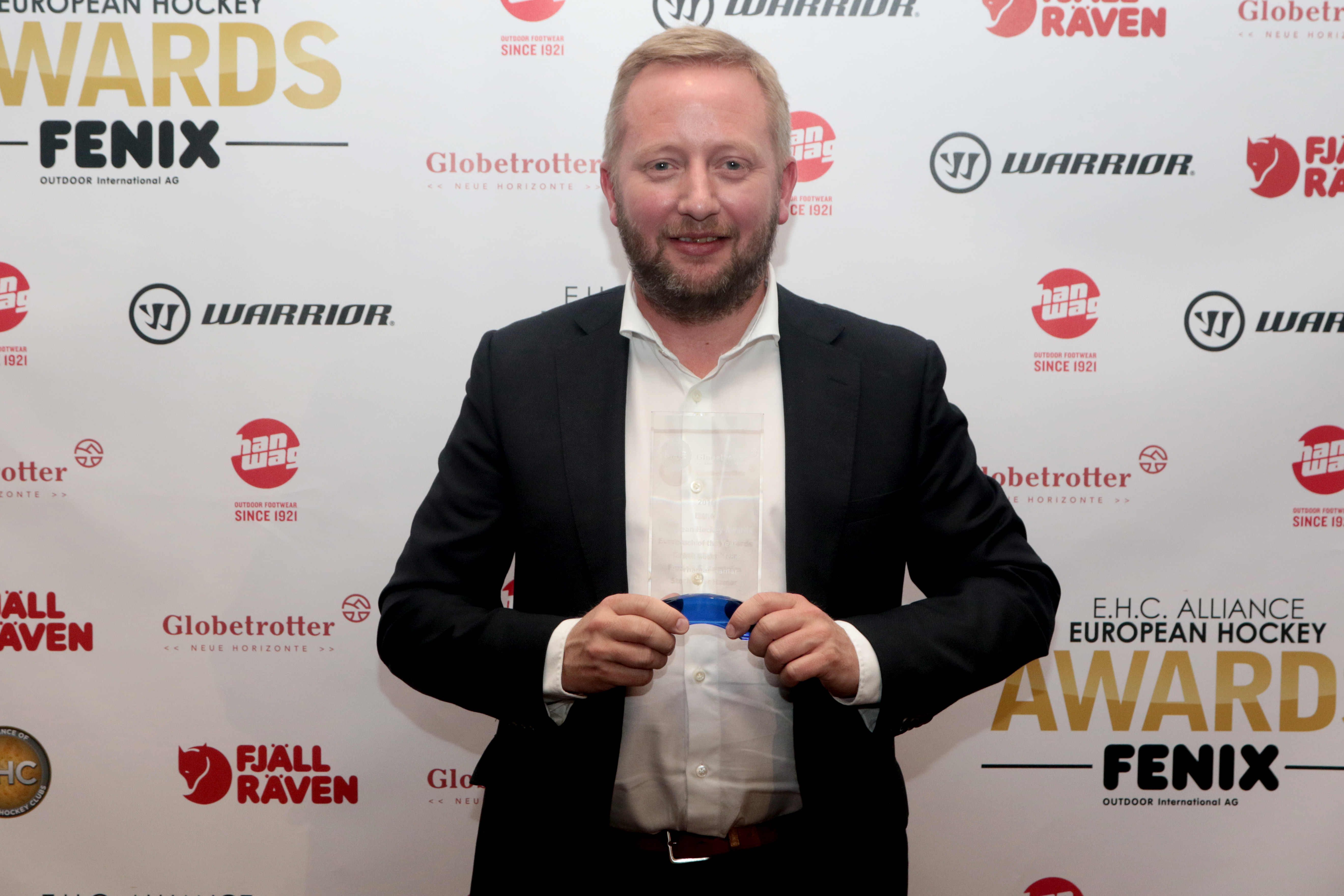 Elias Pettersson, in his record-breaking effort to help the Växjö Lakers to the Swedish title, beat out some fine players to win the Fjällräven Young Player of the Year Award. Included were the projected top pick in the upcoming NHL Entry Draft, Rasmus Dahlin, outstanding Olympic performer Eeli Tolvanen, as well as Finn Miro Heiskanen and Russian Kirill Kaprizov.
"This means so much," Pettersson began. "There are so many good young players in Europe, so this means a lot to me and it just shows me as a player and as a human being that anything is possible."
Pettersson has already signed a contract to play in the NHL for the Vancouver Canucks next season and said about that: "I'm looking forward to it a lot. I've been dreaming of playing the NHL since I was a child and I'm not there yet, but I'm very close to making my debut."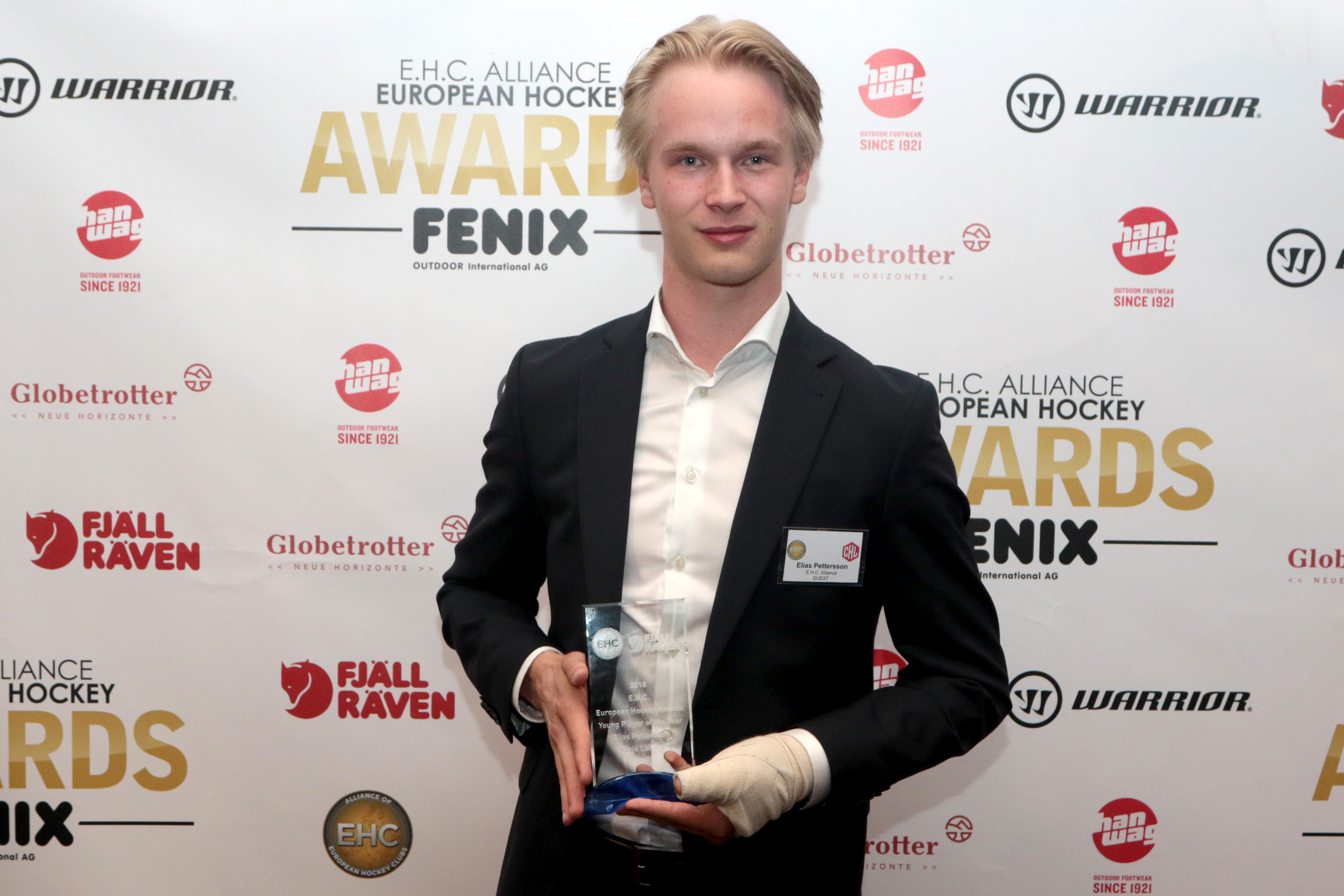 The new award this season was the Warrior Award, which is awarded to the player who best exemplifies the qualities of sportsmanship and dedication, career excellence, combined with a community service and high standard of playing ability. It went this year to HV71 Jönköping's Riika Välilä, who became the first European woman to be inducted into the IIHF Hall of Fame in 2010. When she came back from a 10-year retirement, she embarked on another Hall-of-Fame worthy career. While still dominant at the league level, Riikka showed that she is still also one of the finest women hockey players in the world while leading Finland to a bronze medal at the 2018 Olympics – 20 years after her first bronze at Nagano 1998.
"This is, for sure, one of the greatest honours I have ever received because this is the first time that a female player is one of the nominees, and then to win against those other players with great careers is a great honour for me," she said. Other nominees for the Warrior Award were Christian Ehrhoff of Kölner Haie, Martin Erat of Kometa Brno, Tomi Kallio of TPS Turku and Mathias Seger of the Zürich Lions.
After Välilä received the award, a video was played featuring legendary Canadian forward Hayley Wickenheiser, who offered congratulations to her longtime nemesis from some of women's hockey's biggest battles in the 1990s and early 200s. Välilä said: "That was a big surprise. Hayley is a great player and everybody in the hockey world knows her, so those words she said about me felt really good."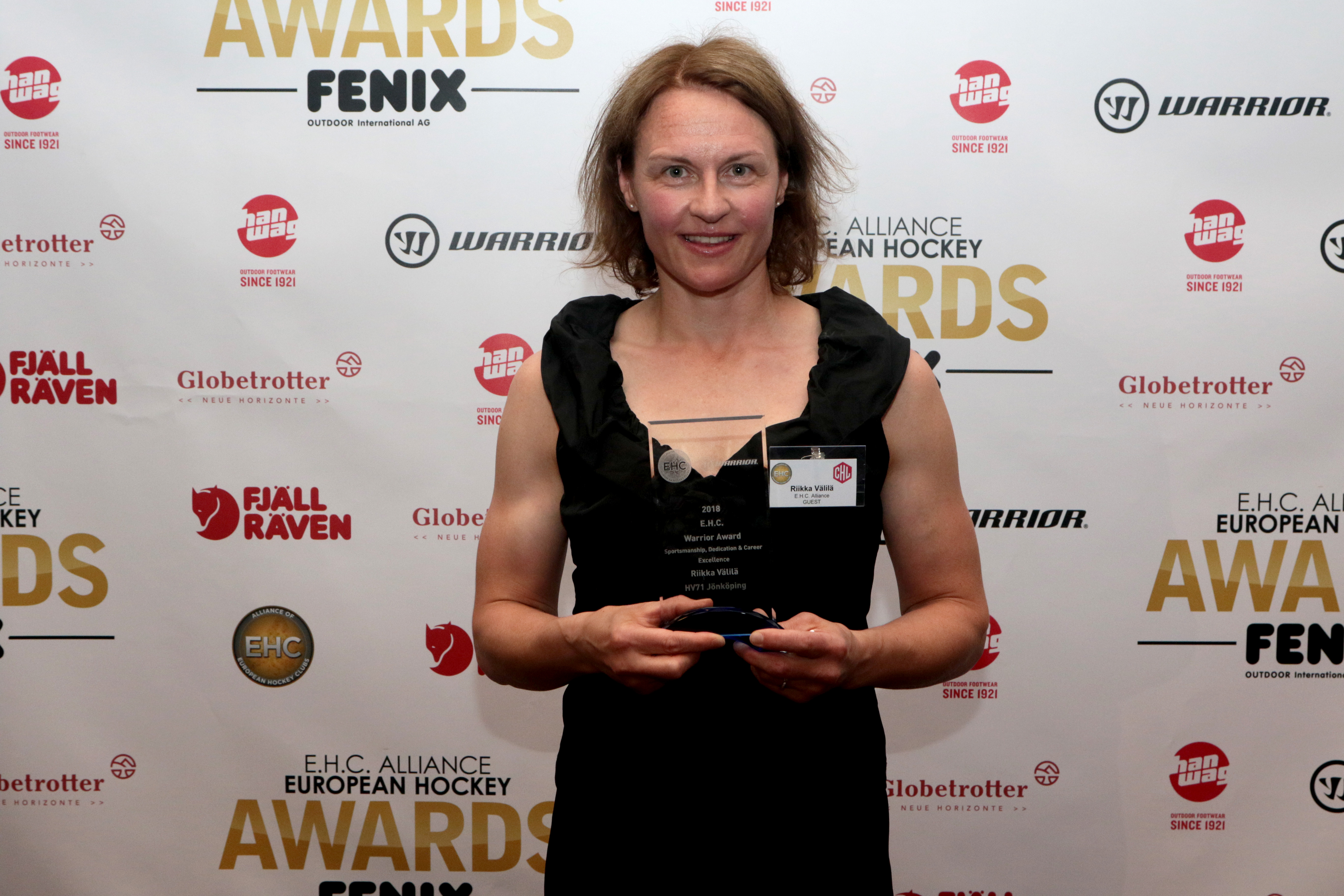 Read about last year's European Hockey Awards here.
Photo: Jan Beneš