Lord of Cardiff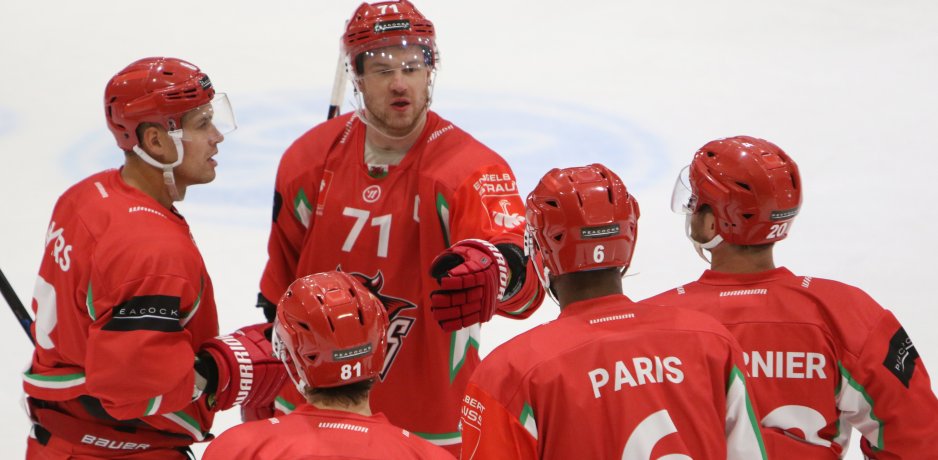 Andrew Lord has been with the Cardiff Devils for the past five seasons as a player and a coach, and seen the club transform from one in financial difficulty to a repeat EIHL champion. He's been a player-coach for the last four seasons, but now, having just retired as a player, Lord will now focus solely on his head coaching duties.
For his efforts, he has been nominated for the Globetrotter Coach of the Year Award along with three other title-winning coaches: Kai Suikkanen of HC Bolzano, Frederik Söderström of Storhamar Hamar, Libor Zábranský of Kometa Brno and Sam Hallam of the Växjö Lakers.
"I've won the coach of the year award twice in our league, and those were nice," he said, before chuckling, "I hope you vote for me."
Lord had a chance to coach against Hallam this season twice in the Champions Hockey League – and even played in one of the games. The Devils managed a split, which is a feather in the cap of a British team against a Swedish champion.
"They have a heck of a hockey team," Lord said of the Lakers. "They beat us when we went there but to pull out a win here against them was pretty cool. I know it was early in the season and they probably underestimated us, but still … to watch them go on and win their league like that was pretty interesting.
"It was fun beating a few of those teams and I think it was definitely a bit of a surprise for them. We beat Växjö and Davos here, so those were two pretty memorable wins for our organization."
But there were much more memorable wins in British hockey this season. The Devils' league rivals, the Nottingham Panthers, made it to the CHL Round of 16 and then, in April, the British national team won the IIHF World Championship Division I Group A in Budapest, which qualifies them for next year's elite group. Like everyone involved in British hockey, Lord watched with amazement.
"It sure was unreal!" Lord marvelled. "As much as everyone goes on how amazing it is, it really was deserved. The British players in our league have gotten better and better. Our guys, as well as the others, work tirelessly to improve and come better players."
Four of Lord's Devils were members of the GB team, including heroic goaltender Ben Bowns, so he watched the five games with great interest.
"I was just so happy for everyone – the players and staff, and for the fans in the country. There's a huge following in our league, a lot of sold out rinks, the level of imports is through the roof from ex-NHL and AHL guys now. The league has momentum and it spills over to the GB squad. Now it's a whole new ball game going into Pool A. It's really exciting for everyone."
A fortunate unfortunate break
Growing up in British Columbia, Canada, Lord certainly didn't imagine that coaching in Wales would be in his future. Like every hockey player from that part of the world, he dreamed of the NHL, but after four years of college hockey and a few years in the minors, his career took a bit of a turn at age 26.
"Fortunately or unfortunately, depending on how you look at it, one of the years I was in the AHL I had an injury that caused me to miss the whole season," Lord recalled. "The coaching staff there in Oklahoma City was good to me and gave me a chance to help out. I was sort of an honorary assistant coach – an 'eye in the sky' watching from upstairs – and I was in on all the meetings. I learned a lot that way."
He said of the staff of Todd Nelson, Gerry Fleming and Rocky Thompson: "Those were three coaches that were very good to me and got my appetite for coaching, so I knew that it was something I wanted to get into."
After a year of playing in Riessersie in the second German division, Lord ended up in Cardiff, playing for a ninth-place Devils team that was operating on a shoestring budget and playing in a temporary rink.
"It was a rough situation with the old ownership, both on and off the ice," Lord recalled. "I did my MBA while I was playing and I was potentially going to retire or go to another team, but then we got new ownership and Todd Kelman, our managing director, hired me to be the coach. It was a budget thing to start with. We just wanted to get through the year without losing money and we did that."
In 2014/15, Lord's first season in the unique dual role, "We ended up having a pretty good year, winning the Challenge Cup, and because it worked well, we kept going with it. Every year I've taken on less and less of a role playing and this year I was pretty much a spare. If there were injuries I'd play but if we were fully healthy I'd be behind the bench. It was an easy transition.
"Since the ownership change four years ago the organization is run really well now and we've developed a really professional, winning culture, starting with our first Challenge Cup win a few years ago and we still have a few players left from that."
Since then, the Devils have won back-to-back regular-season titles which, in Britain, is considered the national championship rather than winning the playoffs. This season, they won the playoffs too.
About the Elite League Trophy, Lord said: "It's a cool trophy to win because it's such a long journey over the course of the season, so to win twice in a row is quite an accomplishment and we all take a lot of pride in that."
Looking to the future
"In the last five years that I've been around, the league has grown tremendously," said Lord. "Players are starting to realize that it's a good league. It's an easier transition for North American players, culturally, than other places in Europe because it's the English language, the girlfriends or wives can work, and if they can play a good level of hockey, it becomes a pretty attractive option for them."
This past season, Lord played in only 25 EIHL games. With the Devils in the thick of the title race, he didn't play at all down the stretch, instead coaching behind the bench in a jacket and tie. Once first place was wrapped up, though, he played one last game.
"The owners and the staff brought the idea up to give me a farewell game, and it was nice because we'd won the league so it was a meaningless game as far as the standings were concerned," he said. "It was a memorable night. I definitely wasn't in the greatest game shape because I hadn't played in about three months," he laughed, "but it was fun to be out there one final time.
"I'll definitely miss playing. I already do," the 33-year-old admitted. "But at the same time, it's a new challenge. I really enjoy helping players improve and grow as players and people and I think we've had some success at that during my time here. Now that I'm behind the bench full time, I'm hoping to take that to a whole new level."
Photo: Andrew Lord, in his role as player-coach, instructs his teammates on the ice during a game. (by Todd Kellman)