Kometa Expres: Brno players & fans travel to Prague in style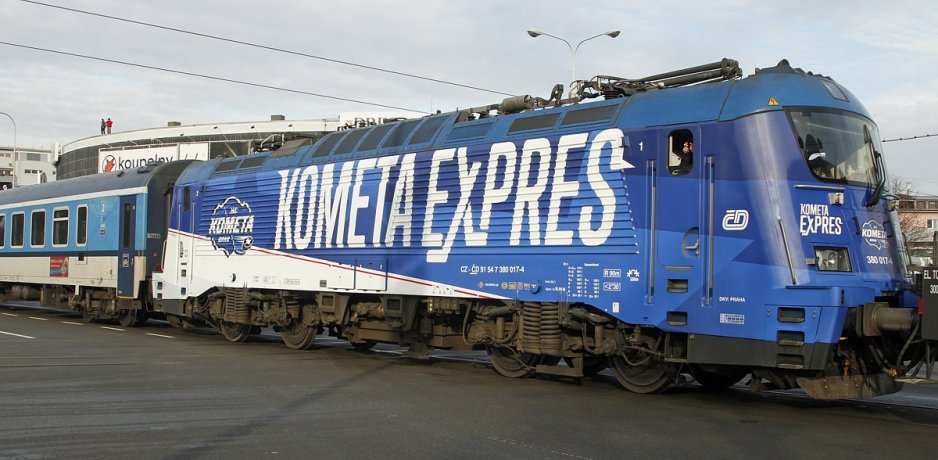 ​Kometa Brno is known for having among the most passionate hockey fans in all of Europe, and this past spring they were rewarded with their first Czech title since 1966. Just before Christmas, players and fans together rode a special train to the nation's capital to watch a game against Sparta Prague.
The 15-car Kometa Expres was painted in the team's colours of blue and white and decorated with team logos. It left Brno's DRFG Arena – where trains normally don't stop – around noon on Friday, 22 December. Among the 1120 passengers on board included the team's players, coaches and staff, as well as sponsors and alumni. The rest of them were fans with tickets to the game, including hundreds of children from Brno orphanages and youth sports teams.
At around 15:15, just over three hours before game time, Kometa Expres arrived at Prague's Libeň station, a short walk from O2 Arena – Prague's large and magnificent multi-purpose venue. The Kometa fans arriving on Kometa Expres – as well as thousands more who travelled by other means – helped bring in a crowd of 16 343, the largest in the Extraliga so far this season.
For years, Brno – the Czech Republic's second-largest city – has been trying to get its own multi-purpose arena. Instead, Kometa continues to play in the undersized and increasingly outdated DRFG Arena, which fans fill it to capacity for each home game.
"The sad subtext of this otherwise wonderful project is, 'Why are we bringing the children of Brno to a multi-purpose arena in Prague when we could have one at home?'" Kometa owner, general manager and head coach Libor Zábranský asked. "It's clear that Brno needs such a facility."
The game itself was a competitive one, with Sparta winning 3-2. At the Christmas break, Kometa languishes in sixth place in the 14-team Extraliga with 51 points. After the game, though, everyone was talking about the atmosphere in the arena and the spectacle of Kometa Expres travelling to and from Prague.
On the trip home, players mingled with fans and signed autographs. The train arrived back in Brno at 1:42 am, early Saturday morning, with the team's fans still in the mood to party despite the loss.
The following morning, legendary Czech hockey play-by-play broadcaster Robert Záruba tweeted: "Kometa Expres, great event. Just seeing the locomotive in the club's colours is a great ad for Extraliga and its fans. On board: team, legends, kids, fans ... inspiration for other clubs."
Photos: Ivo Dostál. View more HERE.