Kometa Brno repeat as Czech champs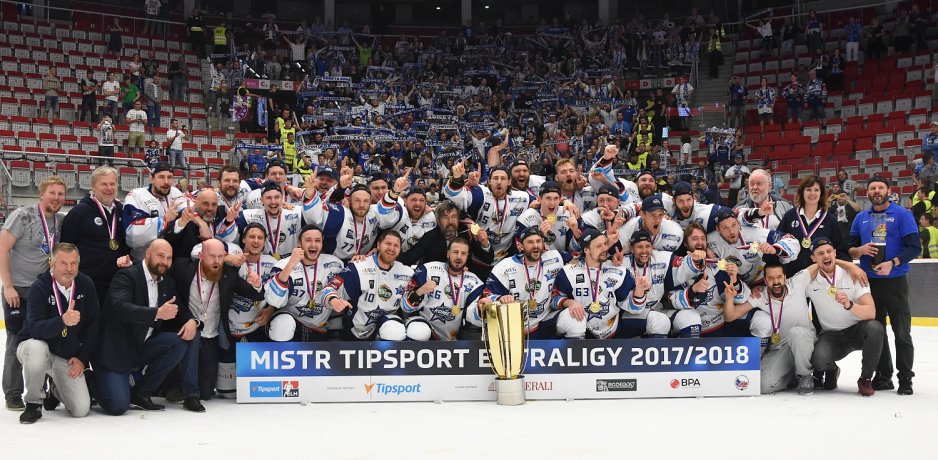 ​After winning their first title in more than half a century last season, Kometa Brno has now repeated as champions of the Czech Tipsport Extraliga following a five-game victory in the finals against Oceláři Třinec. Game 5 was played in Třinec on Sunday, with Kometa winning the game 4-1 and the series by the same score.
"We just have such a great group of players," team owner and head coach Libor Zábranský told the club website when asked about the key to the team's success. "We're like a family and I think that can be seen on the ice. It certainly helped that we didn't change the lineup too much (from last year)."
The core of the team was indeed pretty much the same, led by forwards Martin Erat, Martin Zaťovič, Hynek Zohorna and Martin Nečas, defencemen Jakub Krejčík and Ondřej Němec and, of course, Slovak goaltender Marek Čiliak.
Back at Christmas time, we brought you the story of Kometa Expres, a special train that took the team and many of its fans to Prague for a regular-season game. Kometa lost that 22 December game to Sparta Prague 3-2 for the team's 14th loss in 19 games. Immediately after Christmas, the team began a nine-game winning streak. It was the second straight year in which Kometa endured a regular season in which the team looked like world beaters and times, and struggled on other occasions. Last season, they finished sixth in the regular season and this year fifth. Both years, everything came together in the playoffs, where they marched through with 12-2 records in both 2017 and 2018.
"Every team goes through some ... I don't want to say the word, I don't like the word," Zabranský trailed off, trying to explain how the team persevered. "We practised a lot, even though the Olympic season was so complicated, and it came down to us again and we got back (to where we needed to be)."
This is Kometa Brno's 13th domestic title overall. Before these back-to-back Czech titles, the club had previously won 11 Czechoslovakian championships over a 12-year span from 1955 to 1966. The team from Brno also won three straight European club championships in 1966, 1967 and 1968.
Also on Sunday in the Czech Republic, Verva Litvínov won their last "barrage" game, 5-2 on home ice over Rytíři Kladno, to remain in the Extraliga for next season. Fellow E.H.C. Alliance member Dukla Jihlava was not so fortunate, however. Jihlava defeated Energie Karlovy Vary (who had already secured advancement) 3-2 in their last game but it wasn't enough – they needed Litvínov to lose as well.
Elsewhere in Europe, the Växjö Lakers won the Swedish title on Sunday as well, and several more leagues are in their finals and could have winners any day now. Kärpät Oulu in Finland, Red Bull Munich in Germany and the Zurich Lions in Switzerland are all one game away from winning their respective championships, while in Slovakia, Dukla Trenčin and Banská Bystrica are going to play a decisive seventh game on Tuesday night. CLICK HERE to follow the progress of the playoffs in all major European leagues.
Photo: Jiří Grulich / hc-kometa.cz