Kärpät back on top in Finland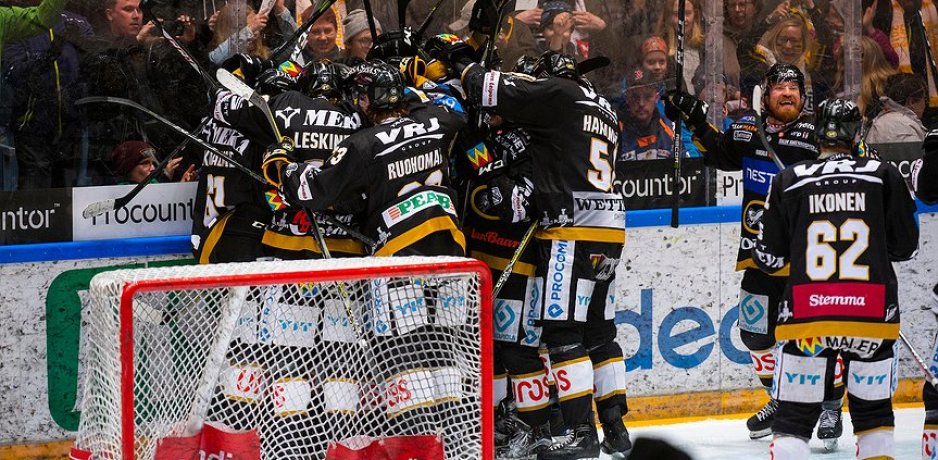 Finland's most dominant team of the 21st century is back on top. On Thursday night, Kärpät Oulu ended Tappara Tampere's two-year reign as Liiga champions with a 1-0 victory in Game 6 of the finals in Tampere.
The reigning champs didn't give up without a fight, however. It appeared that Kärpät was on its way to a sweep after winning the first three games of the series, but Tappara fought off two match points to extend the series to six games. In a goaltending duel between Tappara's Dominik Hrachovina and Kärpät's Veini Vehviläinen, it was Aleksi Mäkelä who scored the game's only goal with just 4:28 remaining in regulation time.
"Every game is different. You can't take anything for granted in the playoffs. In a single game, both teams are trying to win it, and how the game looks is irrelevant," Kärpät head coach Mikko Manner told the club website after the game. "Both teams know exactly how they wanted to play, and the one who maintains that over a full 60 minutes has an edge. We believed we would be that team today."
In four years as an assistant under Kai Suikkanen, Manner was part of Kärpät championship teams in 2014 and 2015. Now, in his first year as head coach, he has another.
The team rebounded from a disappointing 2016/17 season, which they were eliminated in the play-in round, to reassert themselves at the top of the standings, finishing first in the regular season. They then dispatched Ässät Pori in five games in the quarter-finals and outlasted IFK Helsinki over a seven-game semi-final series, winning the last game 2-1.
In his first season with Kärpät after being acquired from JYP Jyväskylä, 21-year-old Vehviläinen was steady all season nearly unbeatable in big games. Another key reason for the team's bounce back was the return of 26-year-old winger Julius Juntilla, who led the team in scoring in both the regular season and the playoffs. And, of course, veteran captain Lasse Kukkonen was a steadying force on the back end, as always.
With this year's win, Kärpät has now won eight Finnish titles - seven of which have come since 2004. Their win in this year's finals denied Tappara a third straight, and record 16th overall championship.
Photo: Photo: Jussi Määttä / oulunkarpat.fi