HPK coach "excited and relieved" to win title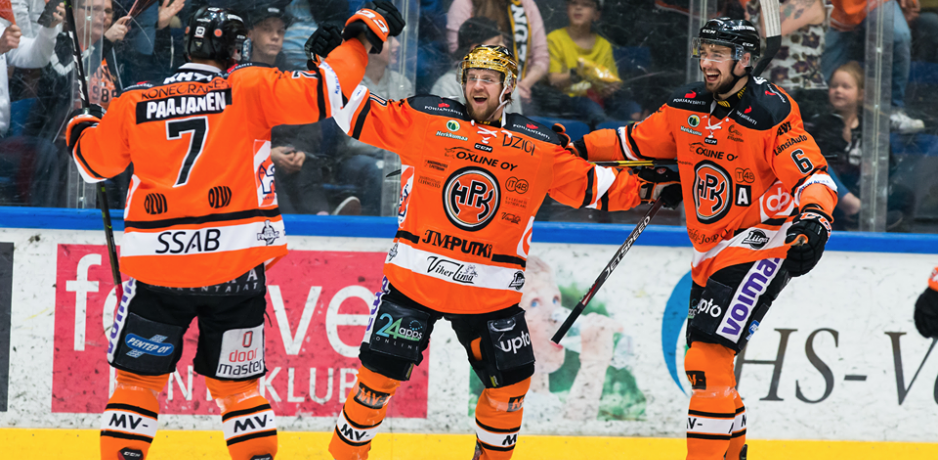 Markus Nenonen scored a power-play goal at 75:24 to give HPK Hämeenlinna a 2-1 overtime victory over Kärpät Oulu in game seven of the Liiga finals.
It was a dramatic, storybook ending to a season that had its ups and downs for a team that refused to go away when it looked finished. After finishing fifth in the regular season, HPK dispatched of fourth-placed TPS Turku in five games in the quarter-finals and then second-placed Tappara Tampere in six games in the semis, winning three straight one-goal games after falling behind 2 games to 1. In the finals against the league's top team from the regular season, HPK fell behind 3-2 before winning the last two games.
"If we went back to the beginning of August and said that HPK would win the Finnish championship, nobody would have believed it," head coach Antti Pennanen said to Hämeen Sanomat, a local news website.
"We've been pretty consistent this season – we didn't lose three games in a row the whole season," Pennanen continued. "Thinking about the whole thing, I'd say that we showed that hockey is a team game. HPK showed that today."
Overall, HPK was a young team. The only full-time players over 30 were 38-year-old defenceman Arto Laatikainen and 34-year-old defensive centre Filip Riska. The offensive leader was 23-year-old Teemu Turninen, who had a breakout third Liiga season with 54 points in the regular season and 14 more in the playoffs. In goal, 22-year-old Emil Larmi was brilliant – particularly in the playoffs, where he posted a goals-against average of 1.72, a save percentage of .932 and had two shutouts in the finals.
The season is now done for HPK Hämeenlinna but not for Pennanen. He's an assistant coach on the Finnish national team and will be joining that coaching staff very soon with the World Championship set to start on Friday. There he'll work with longtime mentor Jukka Jalonen, who was behind the bench for HPK's first national title back in 2005/06.
"Tonight there'll be a little celebrating, then home tomorrow. Then, I'll be joining the national team."
Photo: HPK Hämeenlinna