#HockeyChecksBack! E.H.C. marks return to ice with own tagline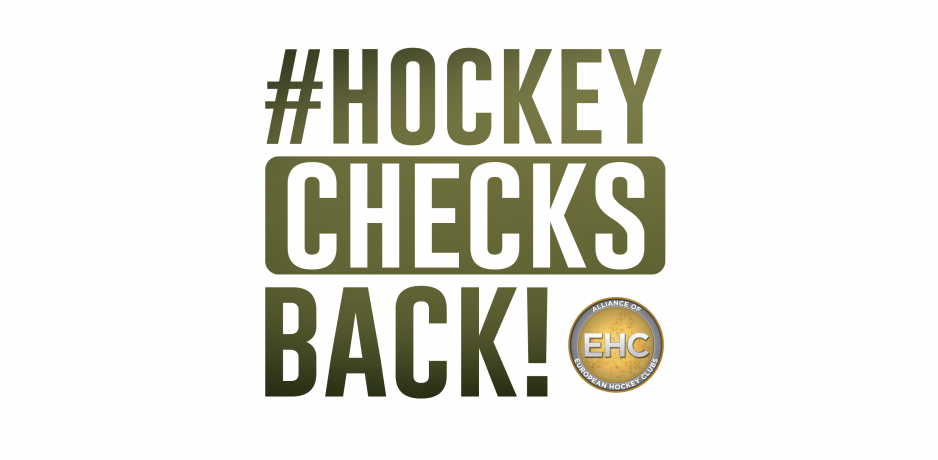 European clubs are returning to ice. The Alliance of European Hockey Clubs marks this with the tagline #HockeyChecksBack – to communicate resiliency, confidence, joy and to signal the end of an involuntary absence.
Virtually all European hockey leagues and clubs came to a sudden halt on 12 March due to the outbreak of the novel coronavirus, one day after the World Health Organization (WHO) declared COVID-19 as a pandemic.
Since then, the European hockey clubs and their respective leagues have planned for a "Return To Play" in the autumn of 2020 under the safest conditions possible. All leagues in which the E.H.C. member clubs play have produced their respective return-to-play protocols to ensure that this is done safely – in accordance with necessary measures mandated by national and regional health authorities, such as testing for players, personally registered ticket sales, social distancing rules in arenas, defined hygiene measures, as well as monitoring and tracking protocols sanctioned by government authorities.

#HockeyChecksBack sends a simple, yet strong message to signal the end of an involuntary absence from the hockey rinks, the only of its kind during our lifetime. It's simple and is meant to communicate our sport's and the clubs' resiliency, confidence and joy bouncing back from the all too long break.
#HockeyChecksBack is a play with words where "check" is a frequently used hockey term to describe an action to retrieve the puck from an opponent. Furthermore, TV commentators often refer to a returning player (after undergoing treatment in the locker room for example) as "NN checks back to the ice".
#HockeyChecksBack will be used on the E.H.C. platforms when informing about or updating any positive and encouraging news about European hockey's return to play activity, and is offered to the E.H.C. Member Clubs in several different formats and designs, to be used entirely at the clubs' own choice and preference.
Clubs can obtain the logopack by emailing european@hockeyclubs.eu
The E.H.C. Alliance is also taking part in and supporting the #Sport4Recovery campaign initiated by E.H.C. partner Infront Sports.