Frölunda wins big at European Club Awards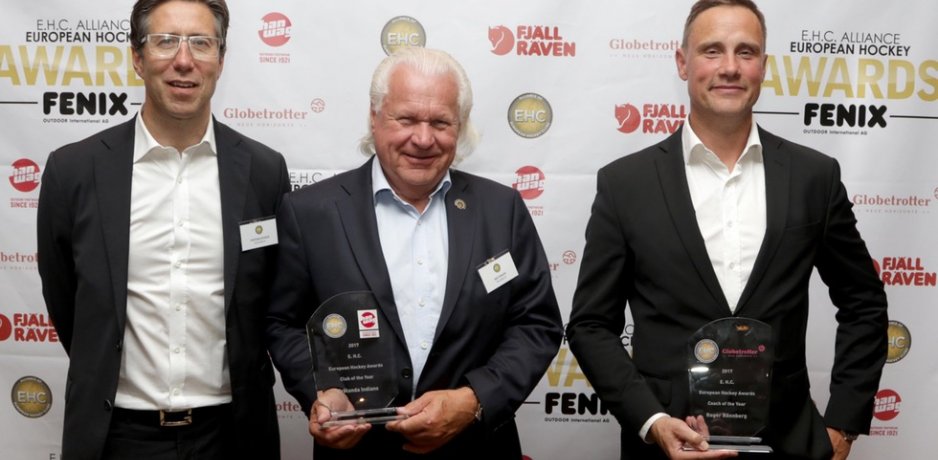 ​PRAGUE, Czech Republic – With three major titles in the last two years, Frölunda Gothenburg has established itself as the top European hockey club, and that reflected in the 2017 Fenix Outdoor European Club Awards. The two-time defending European club champions won two of the evening's three awards.
"It's quite a compliment because there are so many strong teams and great organizations here," said Frölunda President Christian Lechtaler. "It's very satisfying to receive this recognition, and I think it's something that motivates everybody in the organization to keep up the good work."
The Swedish powerhouse was voted Hanwag Club of the Year, beating out Tappara Tampere, SC Bern, the Vienna Capitals and Cardiff Devils.
"It's very well deserved by the Swedish club because they won the Champions League twice in a row and so there's nothing to discuss," said Bern CEO and EHC President Marc Lüthi. He then joked: "They didn't say who was second, so I think we were second."
"The club is developing at a fast pace," said Frölunda head coach, Roger Rönnberg. "We want to be better in everything we do, which is a tough job because there are a lot of expectations on all of us, and there are a lot of good teams in Europe."
In addition to the club's award, Rönnberg was also voted Globetrotter Coach of the Year.
"It's exciting because it's a prize for the whole club, the coaching staff and the management of Frölunda and maybe Swedish hockey," Rönnberg said. "It's not an individual prize."
"He's one of the best coaches in Europe," Lechtaler said. "He's so good at working with each player individually and with everybody as a group as well. He always comes to work with a smile and is a hardworking man."
For the award, Rönnberg beat out Pavel Gross of Grizzlys Wolfsburg, Filip Pešan of Bílí Tygři Liberec, Jussi Tapola of Tappara Tampere and Kari Jalonen of SC Bern.
"It's the same old story. Somebody's gotta beat those guys this year," Lüthi joked about his team losing out on another award. About Bern coach Jalonen, he said: "He's a great guy and he did a very good job with the players."
The third award of the night was the Fjällräven Young Player of the Year, which went to Kirill Kaprizov, who played this past season with Salavat Yulaev Ufa of the KHL, and will play this coming season with CSKA Moscow.