Ex-NHLers Da Costa, Peters, Kindl sign with European clubs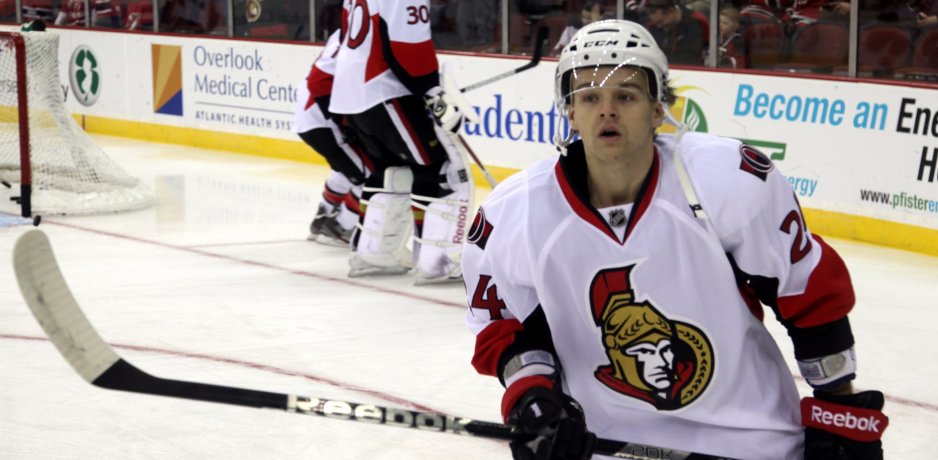 Roughly six weeks into the European hockey season and two weeks since the NHL started, many of the sports remaining free agents are now finding homes.
This past week there have been several big names signing with European clubs, starting with Andrew Desjardins in Mannheim last Thursday. Since then, Stéphane Da Costa has signed with Swiss club Genève-Servette HC, Justin Peters has signed with German club Kölner Haie and Jakub Kindl has signed with Czech club Škoda Plzeň.
Da Costa, a 28-year-old forward who holds French and Polish citizenship, has represented France at seven World Championships, including this past season in Paris, where he recorded 10 points in six games. He went to North America at the age of 17 to play junior, college and eventually professional hockey, suiting up for 47 games with the Ottawa Senators between 2010 and 2014. Since then, he's spent three seasons with CSKA Moscow of the KHL.
"I am very happy to join Genève-Servette. It is a great club with a good organization," Da Costa was quoted on the club's website. "My ambitions are the same as everywhere I go: I don't like to lose and I want to do everything to help the team be as successful as possible."
Chris McSorley, Genève-Servette's sports manager and former head coach and general manager, said: "We've been following Stéphane for several years. He will fit perfectly into the group. Stéphane is one of the most talented players in Europe and he represents exactly what we needed to get through our game."
McSorley hopes that Da Costa can help turn the club's season around. Currently, Genève-Servette sits in 10th place in the 12-team Swiss National League with the league's second-worst offence and tied for the worst defence.
Peters is a 31-year-old Canadian goaltender playing his first season in Europe. Between 2009 and 2017 he played 83 NHL games for the Carolina Hurricanes, Washington Capitals and Arizona Coyotes. He was Canada's third-string goalie at the 2013 World Championship, not playing in any games. He started this season with Dinamo Riga of the KHL, but after that team got off to a disastrous start, the club and Peters parted company in early October.
Peters is on a list of possible players for the Canadian national team at the Winter Olympics in PyeongChang in February. In August, he appeared in two games for Canada in a pre-season tournament in Sochi, Russia.
"Justin Peters is an experienced goalie who knows exactly what situation he finds at Kölner Haie and what is expected of him here," said KEC sports director Mark Mahon said in a club-issued press release. "The injury to Gustaf Wesslau shows just how important it is to have depth in goal, and that's what this gives us. Now we can give Gustaf enough time in rehab to return to the squad 100 percent healthy. With Daniar Dshunussow, Gustaf Wesslau, Justin Peters and Hannibal Weitzmann we now have a strong goalie quartet in the squad."
As mentioned, Peters is expected to carry the load in Cologne with Wesslau injured. Currently, Die Haie sit fifth in the 14-team DEL after 13 games. The team has the league's sixth-ranked defence.
Finally, Škoda Plzeň announced on Thursday afternoon the signing of 30-year-old Czech defenceman Jakub Kindl to a one-month try-out contract. This will be the first time that Kindl will have played in his home country, or even in a European league at all, since he was 17, save for a 13-game stint with Pardubice during the 2012/13 NHL lockout. After playing 331 regular-season and 20 playoff games in the NHL for the Detroit Red Wings and Florida Panthers, Kindl returns to play in his home country for the team that includes his younger brother Denis.
"The deal with Plzeň came together practically in one day, it was really fast," Kindl admitted on the club's website. "This is probably the first time I've gone anywhere on a try-out, but when this offer came, I accepted very quickly. The biggest factor in that is the chance to play with my brother."
Kindl is expected to make his debut with his new team on Friday night at home to Oceláři Třinec. He said: "I think it will take me a while before I get to my optimum pace, but I can't wait for Friday to finally start!"
After a disappointing ninth-place 2016/17 campaign, Plzeň has had a resurgence this season, currently tied for top spot in the Czech Extraliga standings after 14 games with Kometa Brno.
Photo: Lisa Gansky