E.H.C. President's speech to IIHF Congress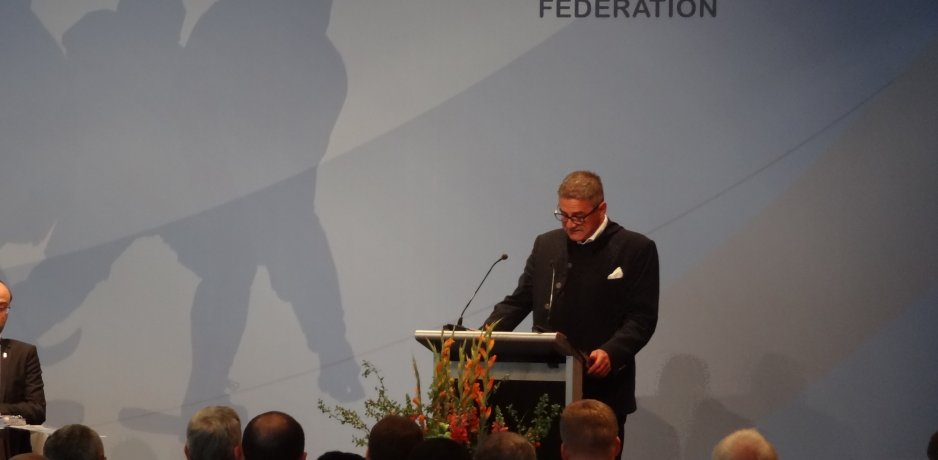 At the IIHF Annual Congress on Friday during the World Championship in Copenhagen, E.H.C. Alliance President Marc Lüthi delivered a speech to the IIHF Council and assembled guests. In it, he outlined the changing landscape of the sports world, and expressed the Alliance's place in the present and future of European ice hockey. Read a transcript of his speech below:
Dear Council, congress delegates, honoured guests,
On behalf of the Alliance of European Hockey Clubs I thank you for giving me the opportunity to address you all. It is truly appreciated.
When I received the invitation to this congress, there were three choices how I could register as:
IIHF

Member National Association
or NHL
Obviously, I don't represent any of them. And this is the reason why I am here today to address you, and this is the main reason why the club alliance was founded two years ago.
We are not members of what is often referred to as "the hockey family." We do not have a voice or vote in decision making and we don't have influence that reflects the pro clubs' contribution to the international game and to the most important IIHF events, such as the World Championships, the World Juniors or the Olympics.
Of course, we recognize the historical background behind this structure. When the international sports federations were founded more than 100 years ago, all domestic sport was governed by the national association. All clubs belonged to the national association, there were no independent leagues, all players were happy amateurs and the entire club office fit into one bag of the team leader. He was a happy amateur too.
But today, 110 years after the foundation of the IIHF, the situation is different. The players are professional, fully employed by the clubs who are structured like corporations. Professional hockey is a business. But part of each club's activity, there is a development program. I am very proud to say that clubs recruit, develop and employ the players – and the best of them go on to represent their country in IIHF World Championships and Olympics.
So while sport has changed dramatically over the last 50 years, the traditional structure and governance of many of the international sports federations has largely remained the same. It is now time for a reform, to give the IIHF a structure that reflects how hockey looks today, so we all can proudly call the IIHF our organization. A modern federation for all of hockey.
In many organizations the process has come a long way, or is even complete.
Let me give you some of what we think are very good examples. Although Swiss ice hockey may still have things to learn on the ice, I believe that the system that we have introduced in my country is a very a good example of how different stakeholders can work together.
Some years ago we realized that in order to grow and develop, the Swiss Ice Hockey Federation must be an organization that includes ALL HOCKEY in the country. So in 2011, we took down the walls between the federation, the top pro leagues and the clubs, and founded Swiss Ice Hockey, which is an umbrella organization that includes pro leagues, its clubs, the traditional federation with both national teams and regional leagues as well as development.
Do we have challenges?
Of course we do.
Do we always agree?
Of course we don't.
But the most important thing is that we are all in it TOGETHER. We are inclusive, not exclusive. Swiss Ice Hockey has become an organization that looks after the interests of all of Swiss ice hockey as a whole. Everyone has a voice, everyone has influence. We have taken down barriers and taken away confrontations.
This – Mr. President, General Secretary, Council and Delegates – is how we see the future International Ice Hockey Federation, an IIHF as an organization for all of hockey – a place that includes stakeholders who contribute to the international game.
If this modern thinking can work nationally, it can also work internationally. The football club alliance ECA and their union of professional leagues are fully recognized members of UEFA with two council seats, and they have a fruitful cooperation with FIFA. The same goes for handball where parties cooperate via a Memorandum of Understanding and through a special Professional Handball Board. Such a multi-stakeholder board is also one of the most important bodies in football's structure.
Such a cooperation in ice hockey is necessary and must be based on some elements:
Representations of clubs and leagues must be officially recognized within the IIHF.

The structure of governance and influence must be designed in such way that clubs and leagues are involved in the entire decision process on issues which are important to them – not only be informed when such decisions are

made.
Dear Hockey Family – the clubs and the leagues wish to be a responsible member of this hockey community, by being directly represented through active participation and with corresponding influence and rights.
But as any member of any organization – we want to assume the responsibility that comes with it, and fulfill our obligations. And one obligation we feel that we have is to share our experience and knowledge with you. WE WANT TO CONTRIBUTE.
So next time I or anyone else from the new stakeholder group shall register for the IIHF Congress, we want to feel that we are part of one of the listed categories, and consequently be part of the hockey family. Our family.
Thank you,