Bern wins 5th Swiss title this decade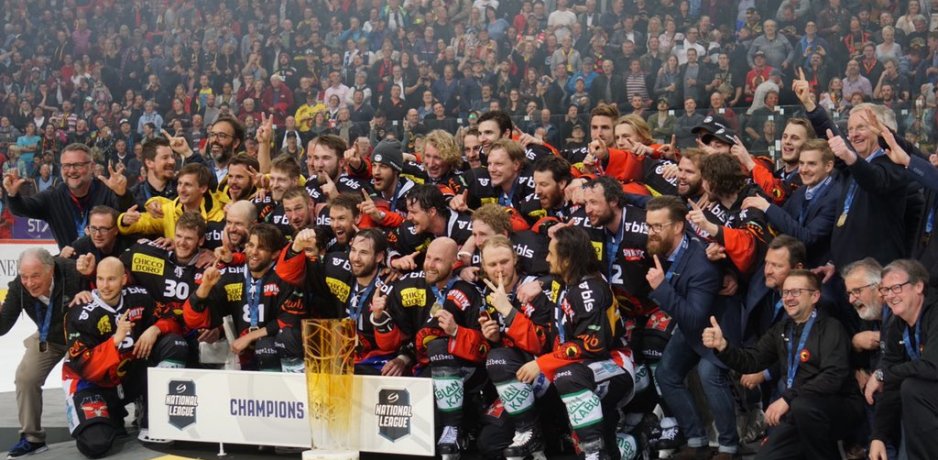 SC Bern won its fifth championship of the decade on Saturday and 15th Swiss title overall after beating EV Zug 2-1 in Game 5 of the National League Finals on home ice before a sell-out crowd of 17,031 at Post Finance Arena.
A full arena in Bern is not a story, as the club has now topped European attendance for 18 straight seasons. But the team was a story.
"There were many side stories tribulations faced by the team, but we got it done," club CEO Marc Lüthi told Berner Zeitung.
This was the second title in three years won under Finnish head coach Kari Jalonen, and everybody in the organization gives him credit for the way he lets his players play.
"Kari lets us play. We're not robots on the ice," said American forward Mark Arcobello, whose 53 points were second in the whole league and his 14 in the playoffs were tops. "Kari's message is: hockey is supposed to be fun."
SC Bern had fun dominating the National League regular season yet again, finishing first place for the third straight season with 101 points. Then in the playoffs, they beat Geneve-Servette HC in six games and EHC Biel in a tough seven-game semi-final series before facing a well-rested EV Zug team, which had just fired off eight straight wins. No matter. After Zug took the first game by a 4-1 score, Bern reeled off four straight wins to finish them off.
They were led by a deep roster of players. In addition to Arcobello, other notable forwards included Andrew Ebbett, Gaëtan Haas, Tristan Scherwey and captain Simon Moser. The defence was anchored by Swede Calle Johansson, Swiss national teamer Eric Blum and 36-year-old Beat Gerber, who has now won six titles with Bern this century.
For the third straight year, Leonardo Genoni was their man in net, playing in 43 regular season games and all 18 games in the playoffs. He stonewalled Zug in the last three games of the finals, allowing just one goal in each game. Coincidentally, Genoni will join Zug next season.
Looking ahead to next year's goaltending situation, club president said: "We will have two good goalies with Niklas Schlegel and Pascal Caminada, who have to prove that they can be championship-calibre. With Philip Wüthrich in the pipeline, and we need a system that helps the goalies. We have that thanks to Kari. It will be fine."
Based on their finishes in the National League this season, Bern and Zug will be joined in next season's Champions Hockey League by Biel, Lausanne HC and Ambrì-Piotta.
Photo: SC Bern