Banská Bystrica 3-peats in Slovakia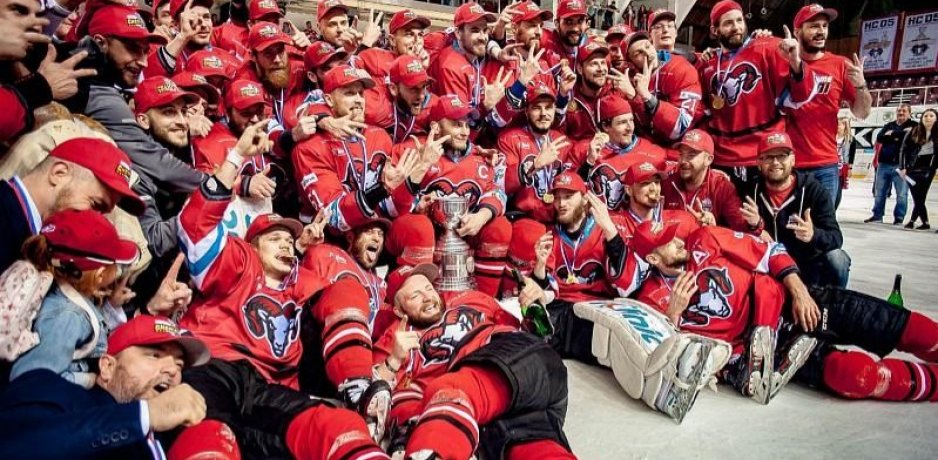 There seems to be a hockey dynasty in Slovakia.
On Tuesday night, HC '05 Banská Bystrica won its third straight Tipsport liga title, becoming just the second team in the country to do so. Previously, HC Košice won three straight titles in 2009, 2010 and 2011.
After finishing first in the regular season with 115 points, the "Rams" beat HK 07 Detva 4-1 in the quarter-finals and HK Poprad 4-2 in the semis before encountering HK Nitra in the finals. Banská Bystrica took a commanding series lead by winning the first three games and then lost Game 4 in a shootout, which gave them a chance to win the title on home ice in Game 5.
They made no mistake in the decisive fifth game, winning 6-2.
We were better on the power play in this game, which gave us a decisive lead," head coach Dan Ceman told the club's website after the last game.
The team's two key players all season long were a pair of North Americans. Canadian Éric Faille was the team's offensive sparkplug, leading the entire league with 72 points in 52 regular-season games and 16 more points in 15 playoff games. American Stephon Williams was the team's clear-cut starting goaltender, playing in 46 regular-season games and all 16 playoff games, leading the league with 34 wins combined – his seven shutouts were tied for the most.
"It's unreal," Ceman continued. "We very much appreciate this title. It was a long season, challenging, players had to deal with injuries, and they deserve the recognition. They showed their character in the playoffs and the final series."
By winning their national championship again, Banská Bystrica qualifies to play in the Champions Hockey League for a third straight season.
Photo: Gabriela Ganzová / hc05.sk