3rd E.H.C. Hockey Business Forum in Berlin, 29-30 Sept.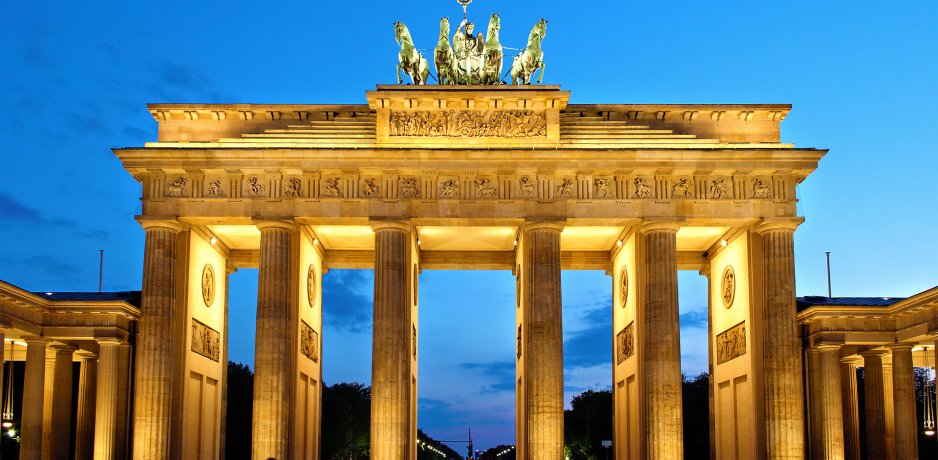 The 3rd Annual E.H.C. Hockey Business Forum will be in Berlin on the last weekend of September. On 29 September, the DEL's Eisbären Berlin will host the NHL's Chicago Blackhawks at Mercedes Benz Arena. The next day, at nearby Mercedes Platz, the Hockey Business Forum will commence.
First, see the game between the clubs who have won six league championships each, with Chicago being the only NHL club which has three Stanley Cup titles in this decade: 2010, 2013 and 2015.
The "Original Six" Chicago Blackhawks feature Triple Gold Club member Jonathan Toews, Olympic gold medallists Duncan Keith and Brent Seabrook, Hart Trophy winner Patrick Kane and a star-studded roster that includes five Swedes, two Czechs and a Finn.
Die Eisbären also have an international roster with several North American players including Canadian Olympic bronze medallist Maxim Lapierre, and a couple of German Olympic silver medallists: Frank Hördler and Marcel Noebels.
We have rooms reserved at a hotel just next door to the hockey arena at the Mercedes Platz. All three venues – the hotel, the game and the E.H.C. Hockey Business Forum – will be within 200 metres' distance around the Mercedes Platz.

It will be a fantastic weekend in the German capital with the Berlin Marathon on Sunday and the following week the 30 Year Anniversary Commemoration of the fall of the Berlin Wall begins. Join us for two eventful and historic days.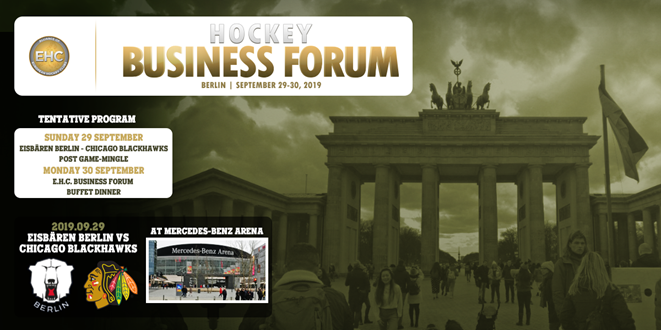 2019 E.H.C. HOCKEY BUSINESS FORUM, Berlin City East Side Gallery
Sunday
29 September
until 13:30
ARRIVAL
13:30 - 16:30
Lunch

Loretta Restaurant at Mercedes Platz – presented by VÖLKEL

15:00 - 17:00
Check-in
Hampton By Hilton or Holiday Inn City East Side Gallery
17:00 - 18:00
Ticket pickup
Holiday Inn City East Side Gallery
19:30 - 22:30
Hockey
Eisbären Berlin vs. Chicago Blackhawks, Mercedes Benz Arena
22:15 - 01:00
Post-game
Mingle & drinks, Grad260 Rooftop Bar, Mercedes Platz – presented by STATHLETES
Monday
30 September
09:15 - 10:00
Registration
UCI Luxe, Mercedes Platz
10:00 - 12:30
E.H.C. Hockey Business Forum
UCI Luxe, Mercedes Platz
12:30 - 13:00
Coffee break
Networking & Trade Show
13:00 - 15:30
E.H.C. Hockey Business Forum
UCI Luxe, Mercedes Platz
15:30 - 16:30
Buffet dinner
Networking & Trade Show
16:30
DEPARTURE
Confirmed speakers
Luc Robitaille / Peter Lee – LA Kings & Eisbären Berlin business model
Roger Rönnberg (Frölunda) – The art of picking the right coach
Bill Daly (NHL) – How the salary cap healed a broken system
Mika Sulin – Club's own stadium – a reality, not a dream
Fadi Naoum (SAP) – The perfect trip; Fan engagement & revenue growth
Ed Scott (Euroleague) – Road to basketball's Euro success; what can hockey learn?
Sergei Dobrokhvalov (KHL) – KHL goes high-tech with automized data collection
Tom Huston – Hockey's best financial proposition in 40 years
Patrik Egervall – Unique helmet technology to reduce concussions
Christoph Heimes (IX.co) – Roadmap to digital leadership & monetization
Welcome to E.H.C. Hockey Business Forum III!