Twelve reasons why the Swiss league tops Europe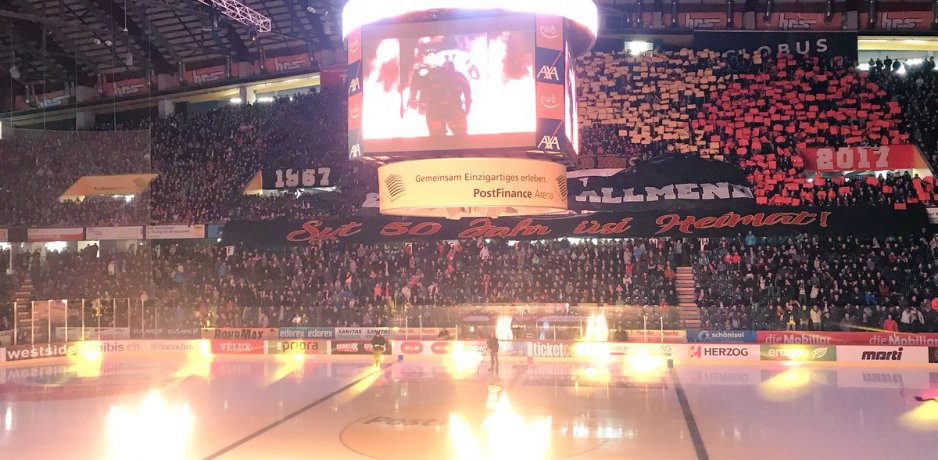 Swiss hockey is good, but not yet the best in Europe. The population base is fairly small, and some teams are located in provincial towns and play in arenas which are far from state-of-the-art. Still, the Swiss league has had the highest average attendance in Europe for the last five seasons. We try to analyze why this is the case.
Europe has six hockey leagues which traditionally average 5000 or more fans per game: the Swiss National League, Swedish Hockey League, Russian Kontinental Hockey League, German Deutsche Eishockey Liga, Czech Extraliga and Finnish Liiga.
After these six leagues, there is a considerable drop-off to the Austrian EBEL and the British Elite Ice Hockey League, with both striving towards the 3000 mark.
But if we look at the top six, we can immediately determine that Sweden, Russia, the Czech Republic and Finland are traditionally stronger hockey powers than Switzerland, while Russia and Germany have considerably higher populations. Of all the nations mentioned above, only Finland has a smaller population than Switzerland.
Switzerland is currently ranked seventh in the IIHF World Rankings (fifth among European nations) which is a reflection of the performance of the national team during the last four-year period.
Since the launch of the Champions Hockey League in 2014, several Swiss media personalities and columnists have pointed out that "our league may be well attended but it is not as good as we may want to think," pointing out that no Swiss club has been able to seriously compete for the European club title during the CHL's first three years of existence.
Still, it is the Swiss National League that boasts the best attendance figures in Europe and has done so in six out of the last seven seasons.
In 2015/16, the Swiss League set an all-time European attendance record by becoming the first to pass the 7000-mark with 7026. This not only makes the Swiss league the best draw in Europe, but also the second in the world, of course behind the NHL, which averages around 17,500.
Reigning champion SC Bern has been the best draw in all of Europe for 16 consecutive seasons, each year averaging more than 16,000 fans. In last season's playoffs, each game at the PostFinance Arena was a sell-out of 17,031 – this in a city of 120,000 people.
All of this defies the logic that prevails in other European team sports where quality and population are factors that, to a large degree, define attendance figures in leagues in football, basketball and handball.
(As a side note: as of this season the top Swiss league – formerly referred to as National League A or NLA – is now called "National League" while the second-tier NLB is now officially the "Swiss League". In an international context this can create some confusion, but we leave this for another day.)
So what are the reasons that make the Swiss top league – the National League – an anomaly in Europe? Based on own observations and discussions with people in the club and league business, we have defined the following:
1. Consistent format: Since 2000, the Swiss top league has had 12 teams, with eight making the playoffs (quarter-finals) while teams placed 9 through 12 face relegation. There have been small adjustments made to the relegation system, but the "heaven-or-hell" principle prevails; either you make the playoffs and compete for the championship or you play for survival, a nail-biting and ulcers-inducing campaign called "play-out".
The Swiss have stuck with this no-compromise system while many other comparable European leagues have expanded to 14 teams while introducing a "pre-playoff" round, where teams placed 7 through 10 play a best-of-three or best-of-five series to make it to the quarter-finals.
This "staying-with-what-you-know" practice pretty well reflects the national character of the Swiss – think twice before making a change.
2. 50-game schedule: No other major European league plays so few games. Other comparable Euro leagues play either 52, 56 or 60-game schedules. The schedule, combined with the unforgiving format, contributes to the sense that each game is relevant. A multi-game losing streak may put you in the relegation danger zone, something which all involved want to avoid at any cost, but this sells tickets.
3. Set playing days: The National League plays Tuesdays, Fridays and Saturdays. Games on other days are exceptions, and then mainly due to arena unavailability. The set days makes it easy for the fans to circle in dates and plan their visits to the arenas.
4. Limit on foreigners: As Switzerland is not part of the EU, they don't have to comply with free-labour movement regulations. So the National League has a limit on four non-Swiss players on the ice (more foreign players may be under contract, but only four on the game sheet). This works well in two ways:
As the number of foreign players is so limited, each club is under pressure to scout well and sign "imports" of the highest possible quality who really can improve the team. You cannot afford to fail with a signing of a

Canadian, American, Swede or Finn. As a result of this, the quality of foreign players in the Swiss league is high and they are also well compensated.

This limitation guarantees that 17 players on each team on any given night are Swiss, which obviously is good for Swiss hockey as a whole.
5. Most Swiss stars stay: Although the quality of Swiss hockey has improved greatly over the last 10 to 15 years, there are only some 14 Swiss in the NHL. This means that the majority of Swiss national team players play at home. This is a luxury that Sweden, Finland, the Czech Republic and Russia don't have. For example, last season, more than 90 (!) Swedes played in the NHL. That's almost five teams.
6. Short distances: Switzerland is not a big country. Away trips are short, and players are home the same night even after the most distant away game. This means that players are never fatigued from travel (see point 12) and this also contributes to extensive fan travel to away games. The most passionate fans consistently watch their team both home and away.
7. Dominant clubs, but many challengers: Since 1999, only four clubs have won the Swiss title: Zurich, Bern, Davos and Lugano. These are traditional powerhouses who all the other teams want to beat, which is good for attendance. Despite the dominant quartet, there is good parity in the league, with clubs like Zug, Fribourg-Gottéron, Genève-Servette, Lausanne and Kloten, who have the ability to compete. It has happened several times that the team that wins the regular season is immediately ousted by the 8th placed team in the quarter-finals.
8. Historic and regional rivalries: Hockey is about rivalries and nowhere is this such a factor as in Switzerland, where local pride and local characteristics are very important. You have a historic rivalry between the three neighbouring clubs SC Bern, Fribourg-Gottéron and SCL Tigers, Langnau. There is probably no hotter "derby" in Europe than Lugano vs. Ambri-Piotta, both from the Italian-speaking canton of Ticino. You have the Zurich rivalry between the ZSC Lions and Kloten and the French clash of Genève vs. Lausanne. And then you have all the rivalries over the linguistic borders. Needless to say, this is good for business.
9. The game is played where the game was born: Against all odds, professional hockey thrives in places where there are really no conditions for pro sports in the modern era. These are basically villages, small towns at best. Davos, home of 31-time national champion and Spengler Cup organizer, has a population of 10,000. Langnau, where the SCL Tigers come from, has 9,000 inhabitants, while you need a very good map to find the twin villages of Ambri and Piotta, which have a combined population of around 1000 people. But that pro hockey can survive in these places is a testament to the strong tradition and genuine roots of Swiss hockey.
So even if you are a fan of a big-city club, many of them have a soft spot for the so-called "village clubs".
10. Football is not a killer: As opposed to hockey in Germany, Great Britain and also to an extent in Russia, Sweden and the Czech Republic, football is not considered as serious competition. Yes, football is big and popular, but hockey holds its own in the Alpine country and during the winter season it is the number-one team sport.
11. Under one umbrella: There is a healthy consensus in Swiss hockey. The two top leagues are run by the national governing body Swiss Ice Hockey. You can basically consider the National League and Swiss League as one league, divided into two divisions based on quality. There is also a healthy turnover of clubs being promoted and relegated between the two leagues. During the modern era of Swiss hockey, clubs like Geneva, Lausanne, Biel and Langnau have all been promoted from the second-tier league.
12. It's a good show: Maybe this should be listed first but we present it last. The Swiss league is a fun league to watch. Maybe it is because the Swiss players are not as tactically schooled as the Swedes or the Finns. Think back to the last Olympics in Sochi in 2014. Most observers concluded that, although of top quality, the Olympic tournament was not a great spectacle. The reason: world-class players don't make mistakes and mistake-free hockey can be boring at times. The Swiss league is not as tactically driven as the SHL, the Liiga or the KHL. But it's fast and up-and-down.
It is worth reciting what Ottawa Senators' coach Guy Boucher said the other week when asked about the Swiss league. "It is a good and fast league, it's faster than the American Hockey League," said Boucher, who was the coach of SC Bern from 2013 to 2016. "I would not recommend a 30- or 32-year-old former NHLer going there as the league is probably too fast for you. And if you are a young player like Auston Matthews and you want to go there to develop, you must be an exceptional talent like Matthews to take a spot and succeed. If you are not, it's not a league for you."
So, does the Swiss National League have problems? Of course it does. Any Swiss club executive would tell you that making ends meet is a daily struggle. The biggest challenge is player salaries, especially for domestic players of national team quality. As Switzerland does not yet develop as many top-class youngsters as other top nations, their salaries soar.
Having said that, player development has become a priority for many Swiss club today, clubs who earlier mostly relied on imports.
Also, the infrastructure of some arenas is not what you would associate with a country where more or less everything else is top notch, but several clubs are in a process of building new arenas.
But other than that, the Swiss National League is doing pretty well.
Photo: SC Bern