Lakers dominant in SHL title win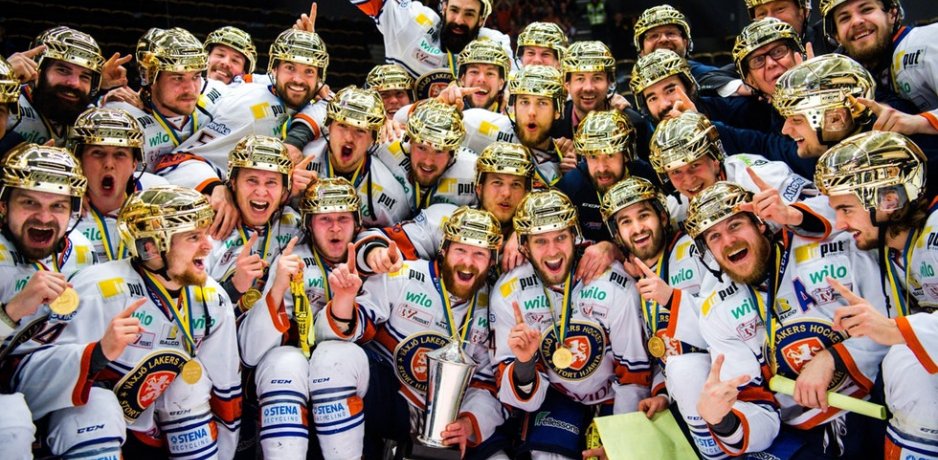 The Växjö Lakers have won their second Swedish Hockey League title in convincing fashion, sweeping Skellefteå AIK in four straight games, outscoring them 20-1 in the process.
The 5-0 win in Game 4 in Skellefteå on Sunday capped off an incredible season in which the Lakers finished top spot in the SHL regular season by a comfortable 21-point margin. The team then marched through the playoffs with a 12-1 record, winning their last 11 straight games. The Lakers also advanced to and hosted the Champions Hockey League Final in February and lost 2-0 to JYP Jyväskylä from Finland – the only blemish on an otherwise spotless record.
"I'm incredibly proud," head coach Sam Hallam told the league website after the final game in Skellefteå. "We've had a fantastic season. We had high expectations for ourselves, and it's incredible for us to be able to deliver as we did. It's not often a team has the kind of season we had this year."
While it was a complete team effort that won the championship, everyone is raving about the season of 19-year-old Elias Pettersson – particularly his performance in the finals, where he scored five goals in four games. Overall, the phenom led the league with 56 points despite missing eight games to play in the World Junior Championship. In the playoffs, he was even better, with 10 goals and nine assists in 13 games. But stats are only part of the story. The amazing plays he made left people in disbelief, particularly the highlight-reel overtime goal he scored to close out the semi-final series with Malmö.
Pettersson and veteran linemate Robert Rosén were a thing of beauty to watch together, while 24-year-old defenceman Joel Persson was also spectacular in his first SHL season. In goal, Viktor Fasth and Viktor Andrén formed a nearly unbeatable one-two tandem all season long.
Established only in 1997, the Växjö Lakers won their first title in 2015 and have been among Sweden's top hockey clubs over the past several seasons. It appears they will remain so in the coming years as well.
Elsewhere in Europe, Kometa Brno won the Czech title on Sunday as well, and several more leagues are in their finals and could have winners any day now. Kärpät Oulu in Finland, Red Bull Munich in Germany and the Zurich Lions in Switzerland are all one game away from winning their respective championships, while in Slovakia, Dukla Trenčin and Banská Bystrica are going to play a decisive seventh game on Tuesday night. CLICK HERE to follow the progress of the playoffs in all major European leagues.
Photo: PETTER ARVIDSON / Bildbyrån / SHL.se