Name of home arena: PostFinance-Arena
Built: 1967 as Allmendstadion, reconstructed/renovated 2007-2009 from then on named PostFinance-Arena
Address: Mingerstrasse 12, 3014 Bern, Switzerland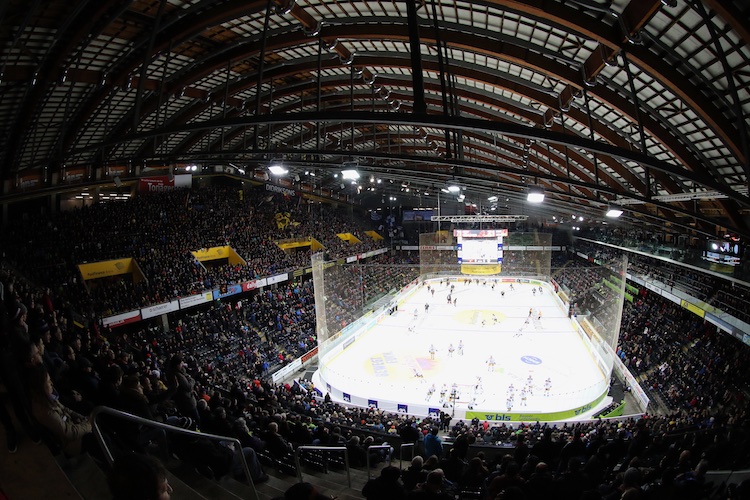 Arena attendance capacity: 17031
Avg. attendance 2016-17 (regular season): 16399
The Arena was built in 1967 as an open stadium, four years later was the roof was built. Also after the renovation from 2007-2009 the PostFinance-Arena still got its typical standing-area with a capacity of 9892 spectators. Three World Championships-tournaments (1971, 1990, 2009) have been organized at this stadium.
Basic info
Founded
1931
Website
www.scb.ch
Club adress
SCB Eishockey AG
Mingerstrasse 12B
3014 Bern
Switzerland

Honours
National titles
(15) – 1959, 1965, 1974, 1975, 1977, 1979, 1989, 1991, 1992, 1997, 2004, 2010, 2013, 2016, 2017

European championships or greatest European accomplishments
European Cup 3rd place (1) – 1990; European Cup 4th place (1) – 1992
Last Seasons
2017-18: 1st regular season, semi-finals, CHL quarter-finals
2016-17: 1st regular season, league & national champions, CHL quarter-finals
2015-16: 8th regular season, league & national champions, CHL group stage
2014-15: 2nd regular season, semi-finals, CHL group stage
2013-14: 9th regular season, relegation round, CHL group stage

About club
SC Bern has won the national championship four times in the last eight years plus the Swiss Cup in 2015 and is therefore the most successful Swiss club of current times. SCB has been in the last sixteen years the European club with highest number of audience, which was in the last ten years an average of always more than 16,000 spectators.